At Globinaco Sdn Bhd (GSB), we define business success as more than just profits, but also in terms of our ability to use our influence and presence to create a better society based on "shared prosperity" principles. The Idiom "Prosper Thy Neighbour" is always close to our heart in defining our corporate goals and aspirations which encompass the following:
Conducting Business is a socially responsible and ethical manner
Protecting the environment and the safety of people
Supporting human rights
Engaging, respecting, supporting and empowering local communities
Helping the underprivileged and giving back to the community
These aspirations are achieved through continuous year-round programmes organised by the group or in partnership with others whereby GSB has contributed in terms of expertise, funds, and employee participation. These programmes also include support to charitable community projects and the group's unwavering commitment to do its part to contribute to the less fortunate and needy in our society.
The GSB Group provided financial assistance for the children in the form of sponsorships towards education and living expenses, purchase of bedsheets, towels, food items and other needs. In 2023, the group together with other donors sponsored 230 underprivileged children in addition to contribution to the Hope Centre.
Pictures of CSR activities for the Period between 1 July 2022 to 30 June 2023 to various homes for underprivileged children, food programme and education for the stateless and hardcore poor and details of GSB's contributions are as listed as follows:
---
24 JUNE 2023 | ST. MARIANNE HOSTEL, TAMPARULI
A newly construction home for girls located in Kg. Bantayan, Tamparuli. The home is built to house up to 70 girls. The home was recently opened in January 2023 after completion of the building and currently has 13 girls. Most of the girls originate from other districts such as Ranau and Kota Belud, which is run by the Franciscan Sisters.
13 CHILDREN X RM 400.00 = RM 5,200.00
PAYEE : RTDKK-FSIC MISSION FUND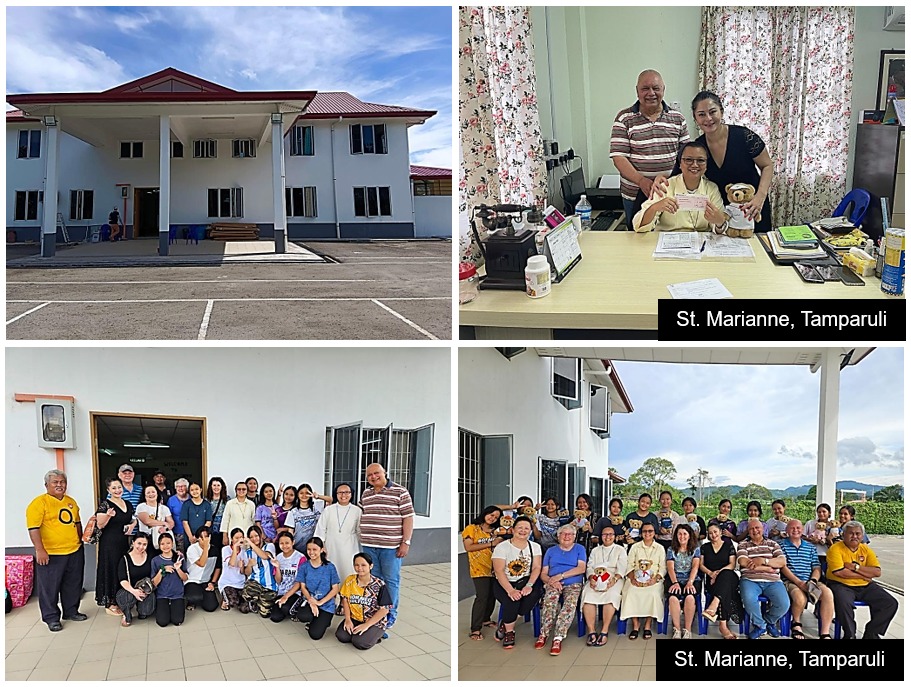 ---
25 JUNE 2023 | ST. THERESA HOSTEL, KOTA MARUDU
A hostel for poor and needy children situated in Kota Marudu, Sabah. The home houses up to 60 children consisting of boys and girls, from primary school up to Secondary School. The Children come from the surrounding districts whereby it is too far for the children to travel to school. The hostel also houses children from impoverished homes, single parent homes, orphans and some which have been rescued from troubled homes.
50 CHILDREN X RM 400.00 = RM 20,000.00
OPERATIONAL ACCOUNT (JOINT ACCOUNT)
PAYEE : OLGA MARY JAMES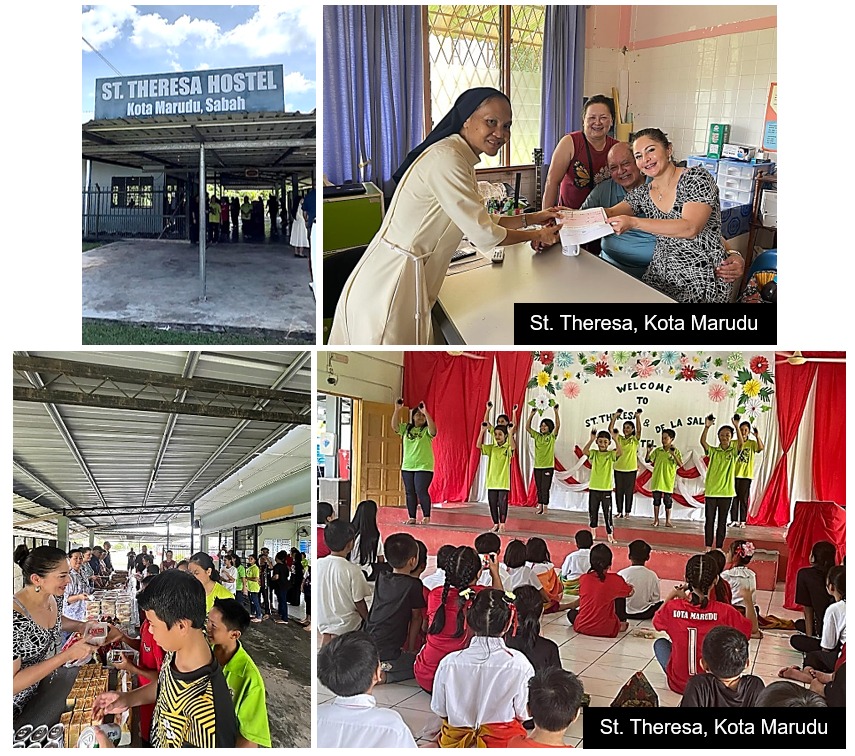 ---
1 JULY 2023 | ST. MARIA GORETTI BINAONG, KENINGAU
This home consists of up to 70 girls which have been placed there from surrounding areas. The home is run by the Franciscan Sisters and is also a refuge centre for the abused. There is also outreach into the surrounding areas to help poor families.
50 CHILDREN X RM 400.00 = RM 20,000.00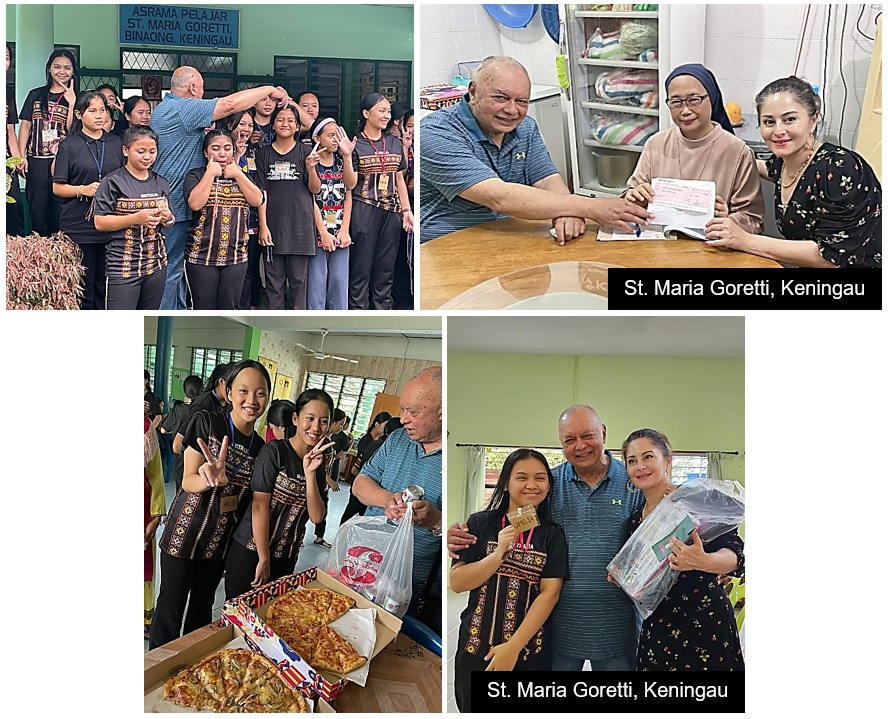 ---
2 JULY 2023 | RUMAH KANAK2 BONDULU GEREJA KATOLIK TOBOH, TAMBUNAN
This is a hostel for poor and needy children ranging from 6 years old to 18 years old consisting of both girls and boys, run by the Franciscan sisters.
9 CHILDREN X RM 400.00 = RM 10,000.00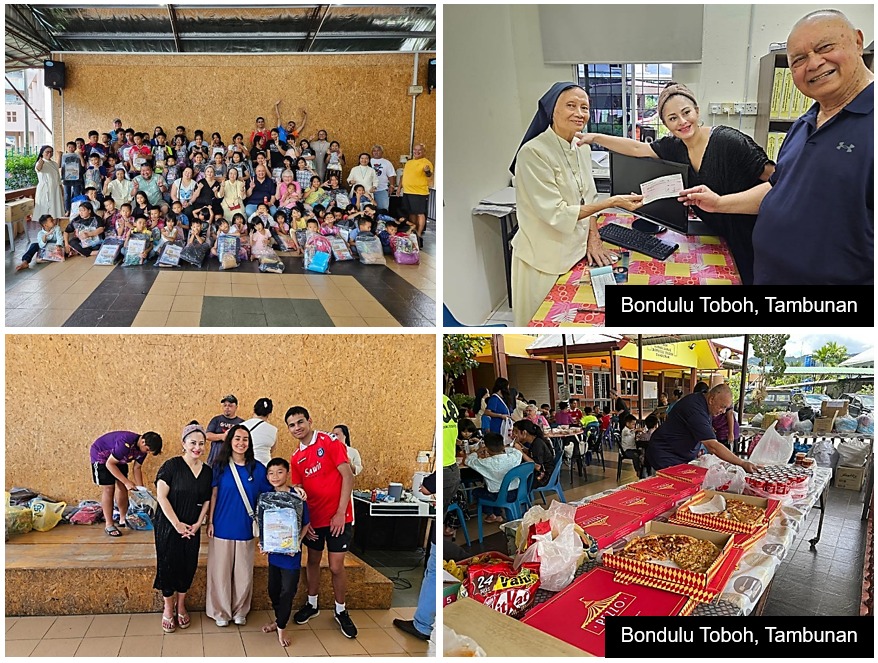 ---
8 JULY 2023 | DON BOSCO CHILDREN'S HOME, BUNDU TUHAN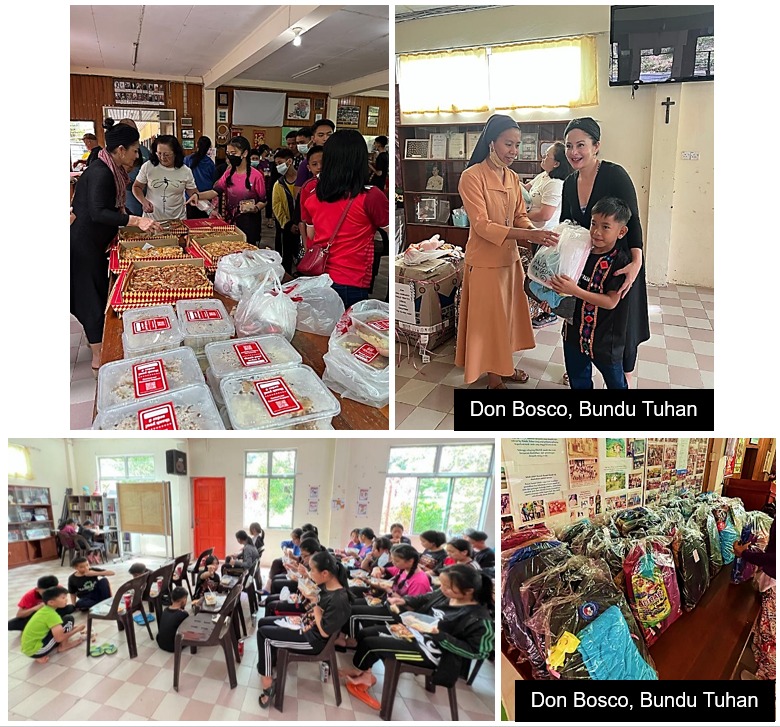 ---
9 JULY 2023 | SAN DAMIANO HOSTEL, KIULU
PAYEE : SAN DAMIANO HOSTEL, KIULU (GIRLS HOME)
25 CHILDREN X RM 400.00 = RM 10,000.00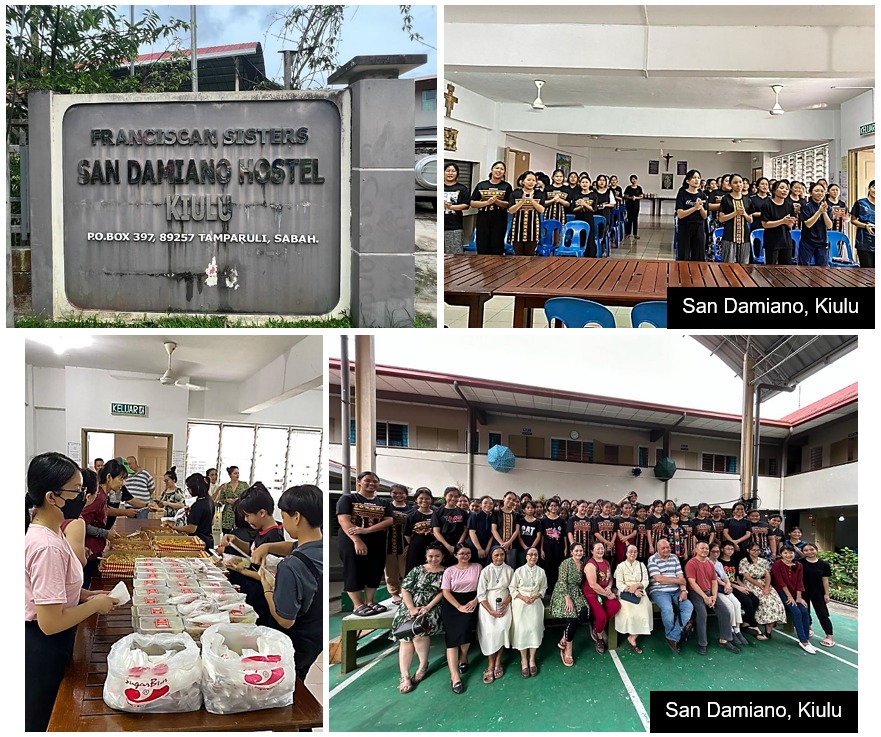 ---
CALVARY CHARISMATIC CHURCH, LAHAD DATU
Teaching and Feeding Programme for Stateless Children in Lahad Datu and a seed contribution towards a new centre for educating the children and youth.
"Promised Land" of Calvary Charismatic Church Lahad Datu
Vision:
To transform a 7-acre land into a sanctuary of hope and empowerment, dedicated to cultivating end time farming, providing vocational training to youth, and serving as a place of refuge for the need. The mission is to develop the 7-acre land into a multifaceted centre that embodies the principles of love, compassion, and empowerment by training and teaching the Stateless so that they can become contributing members of society.
To establish an innovative and sustainable farming model that harnesses modern agricultural practices while embracing sustainable and regenerative farming principles. The aim is to cultivate the land to its fullest potential, utilizing organic and environmentally friendly techniques, and sharing knowledge and resources to promote food security, self-sufficiency, and the stewardship of creation.
Vocational Training School for Youth:
To create a vibrant educational environment where young individuals can acquire practical skills, discover their talents, and develop a strong work ethic. Through comprehensive vocational training programs, mentorship, and hands-on experiences, we seek to equip the youth with the tools they need to succeed in various industries, empowering them to be self-reliant and contributing members of society.
Place of Refuge for the Needy:
To provide a safe haven and a source of solace for the vulnerable and marginalized individuals in our community. The home is committed to offering shelter, food, counselling, and support services to those experiencing hardship, fostering healing, restoration, and hope.
PAYEE : CALVARY CHARISMATIC CHURCH
RM 5,000.00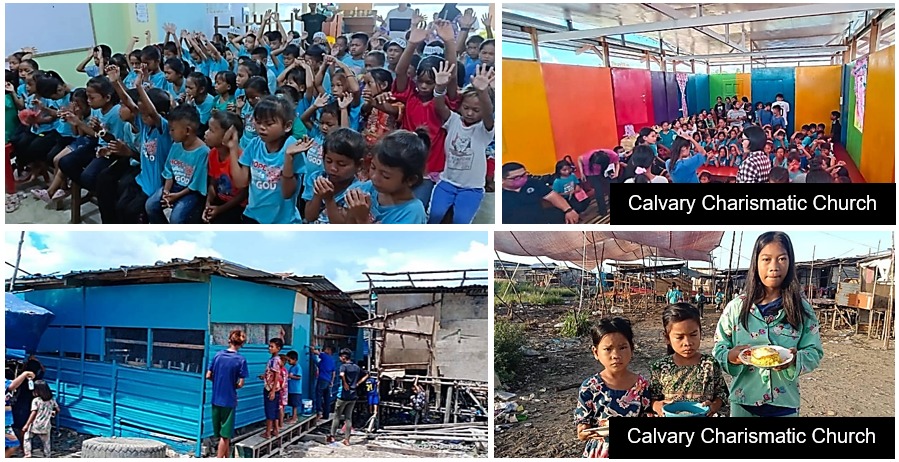 ---
| | | |
| --- | --- | --- |
| | RM 97,701.75 | Sep 12, 2023 |
| | RM 1,000 | Aug 23, 2023 |
| | RM5,000 | Aug 11, 2023 |
| | RM 10,000 | Jul 09, 2023 |
| Calvary Charismatic Church – Sponsorship For Teaching & Feeding Programme For Stateless | RM 5,000 | Jun 22, 2023 |
| The Registered Trustees of The Huguan Siou Education - Sponsorship of KDCA Charity Golf Tournament 2023 | RM 10,000 | Jun 22, 2023 |
| Sponsorship For Chidren's Hostel – St Marianne Tamparuli RTDKK- FIC Mission Fund | RM 5,200 | Jun 21, 2023 |
| | RM 20,000 | Jun 21, 2023 |
| | RM 20,000 | Jun 21, 2023 |
| | RM 10,000 | Jun 21, 2023 |
| | RM 10,000 | Jun 21, 2023 |
| | RM 6,942.50 | Jun 20, 2023 |
| | RM 1,000 | Jun 08, 2023 |
| | RM 1,000 | Jun 07, 2023 |
| | RM 35,495 | May 24, 2023 |
| | RM 22,930 | May 24, 2023 |
| | RM 1,831 | May 24, 2023 |
| | RM 1,442.25 | May 24, 2023 |
| | RM 2,000 | Apr 06, 2023 |
| | RM 20,000 | Mar 06, 2023 |
| | RM 1,500 | Jan 24, 2023 |
| | RM 10,000 | Nov 29, 2022 |
| | RM 10,000 | Nov 25, 2022 |
| | RM 10,000 | Oct 04, 2022 |
| | RM 5,000 | Sep 22, 2022 |
| | RM 10,000 | Sep 22, 2022 |
| | RM 2,000 | Sep 13, 2022 |
| Donation for Society for The Prevention of Cruelty to Animals (SPCA) Kota Kinabalu | RM 1,000 | Jul 29, 2022 |
| | RM 3,000 | Jul 26, 2022 |
| Donation for The Registered Trustees of Seri Mengasih Centre | RM 3,000 | Jul 26, 2022 |
| | RM 10,000 | Jul 26, 2022 |
| | RM 5,000 | Jul 25, 2022 |
| | RM 20,000 | Jul 21, 2022 |
| | RM 20,000 | Jun 02, 2022 |
| | RM 4,000 | May 23, 2022 |
| | RM 50,000 | May 12, 2022 |
| | RM 16,000 | May 07, 2022 |
| | RM 20,000 | Apr 11, 2022 |
| Donation for Society for The Prevention of Cruelty to Animals (SPCA) Kota Kinabalu | RM 3,000 | Mar 08, 2022 |
| | RM 5,000 | Oct 27, 2021 |
| | RM 5,000 | Oct 26, 2021 |
| | RM 5,000 | Aug 09, 2021 |
| | RM 20,000 | Jul 27, 2021 |
| | RM 10,000 | Jul 26, 2021 |
| | RM 5,000 | Jul 22, 2021 |
| | RM 50,000 | Feb 23, 2021 |
| | RM 50,000 | Feb 18, 2021 |
| | RM 50,000 | Feb 16, 2021 |
| | RM 50,000 | Jan 26, 2021 |
| | RM 5,000 | Sep 23, 2020 |
| | RM 5,000 | Aug 06, 2020 |
| | RM 3,000 | Dec 30, 2019 |
| | RM 660 | Jul 11, 2019 |
| | RM 100,000 | Jun 26, 2019 |
| | RM 100,000 | Jun 26, 2019 |
| | RM 5,000 | Nov 15, 2018 |
| | RM 100,000 | Nov 13, 2018 |
| | RM 20,000 | Oct 22, 2018 |
| | RM 1,375 | Apr 18, 2018 |
| | RM 2,304 | Apr 17, 2018 |
| | RM 1,000 | Apr 11, 2017 |
| | RM 1,100 | Nov 04, 2016 |
| | RM 1,000 | Feb 26, 2016 |
| | RM 3,000 | Aug 17, 2015 |
| | RM 500 | Feb 01, 2015 |
| | RM 100,000 | Jan 01, 2015 |
| | RM 100,000 | Jan 01, 2015 |
| 2014 SUMBANGAN DERMA BAGI CABUTAN TIKET BERTUAN SEMPENA (MALAM KEWANGAN 2014) | 1 unit Samsung Galaxy Note 4 | Nov 14, 2014 |
| | RM 400 | Oct 09, 2014 |
| | RM 3,000 | Aug 14, 2014 |
| | RM 1,500 | Jul 22, 2014 |
| | RM 1,000 | Apr 08, 2014 |
| Sumbangan Derma Bagi Cabutan Tiket Bertuah Sempena _MALAM KEWANGAN 2013 | 5 units Canon Pixma Printer IP2770 | Nov 11, 2013 |
| | RM 5,000 | Oct 09, 2013 |
| Pesta Kaamatan Souvenir Book 2013 (Inside Full Page) RM3,000 | RM 3,000 | May 03, 2013 |
| | RM 5,000 | Nov 01, 2012 |
| | RM 1,500 | Nov 01, 2012 |
| | RM 10,000 | Oct 30, 2012 |
| Sponsorship For Magazine Royal Institution Of Surveyors Malaysia 2012 | RM 1,500 | Aug 03, 2012 |
| | RM 2,000 | Jul 19, 2012 |
| | 5 units of Canon iP2770 Printer | Oct 25, 2011 |
| | RM 5,000 | Sep 19, 2011 |
| | RM 500 | Apr 18, 2011 |
| | 5 units of Canon iP2770 Printer | Nov 04, 2010 |
| Sponsorship For The Institution of Engineers Malaysia 34th Annual Dinner Of IEM | RM 1,500 | Aug 27, 2010 |
| Sponsorship For The Institution of Surveyors Advertisment of 28th ISM Annual Dinner Souvenir Magazine | RM 1,500 | Aug 27, 2010 |
| | RM 5,000 | May 06, 2010 |
| Sponsorship For Kelab Sukan Dan Rekreasi Jabatan Pertanian Negeri Sabah | | Feb 05, 2010 |
| | 5 units Canon Printer IP1980 | Oct 23, 2009 |
| | RM 500 | May 20, 2009 |
| | RM 4,000 | May 15, 2009 |
| | 1 unit of Computer with Printer | May 05, 2009 |
| | RM 10,000 | May 02, 2009 |
| | RM 4,000 | Jan 01, 2009 |
| | 5 units of Canon Pixma iP 1880 Printer | Nov 25, 2008 |
| Sumbangan Derma Bagi Cabutan Tiket Bertuah Sempena Malam Muhibbah 'Bersama Bergerak Kehadapan | 5 units Canon Pixma iP1880 | Nov 27, 2007 |
| | RM 300 | Sep 25, 2007 |
| Sponsorship of JKR Contigent in Conjuction with 50th Independence Month - 2007 | RM 500 | Sep 06, 2007 |
| | RM 10,000 | Aug 30, 2007 |
| Sponsorship For The Welfare & Sports Recreation Club Ministry Of Finance Sports Day 2007 | RM 25,500 | Aug 27, 2007 |
| Sponsorship For The 25th Annual Dinner And Installation Of The ISM (Sabah Branch) - 2007 | RM 1,000 | Aug 27, 2007 |
| | RM 500 | Jul 31, 2007 |
| | RM 1,000 | Jul 31, 2007 |
| | RM 3,450 | Jun 26, 2007 |
| | RM 6,500 | Jun 18, 2007 |
| Sponsorship for Golf Competition - Kementerian Pembangunan Infrastruktur Dengan Jabatan & Agensi (2007) | RM 2,000 | Jun 04, 2007 |
| | 2 units Desktop Computer | May 18, 2007 |
| | RM 3,000 | May 16, 2007 |
| | | May 11, 2007 |
| | RM 300 | May 10, 2007 |
| Galanite Sempena Perayaan Pesta Kaamatan Peringkat N13 Inanam (2007) | RM 600 | May 08, 2007 |
| | RM 5,000 | May 08, 2007 |
| | | May 03, 2007 |
| Donation - BLIA BUDDHIST ASSOCIATION SABAH AND FEDERAL TERRITORY OF LABUAN Charity Dinner | | Jan 15, 2007 |
| | | Dec 13, 2006 |
| | RM 15,000 | Nov 22, 2006 |
| | | Jun 03, 2006 |
| | RM 500 | May 05, 2006 |
| | RM 300 | May 05, 2006 |
| | 1 unit Canon Printer | Apr 19, 2006 |
| | RM 1,700 | Apr 07, 2006 |
| | RM 500 | Apr 05, 2006 |
| | RM 300 | Mar 31, 2006 |
| | RM 2,000 | Dec 29, 2005 |
| | 1 unit of Canon Pixma Printer Model iP1000 | Nov 25, 2005 |
| | RM 1,500 | Aug 10, 2005 |
| | RM 1,500 | Nov 01, 2004 |